CQCH's New CEO Loving What He Sees So Far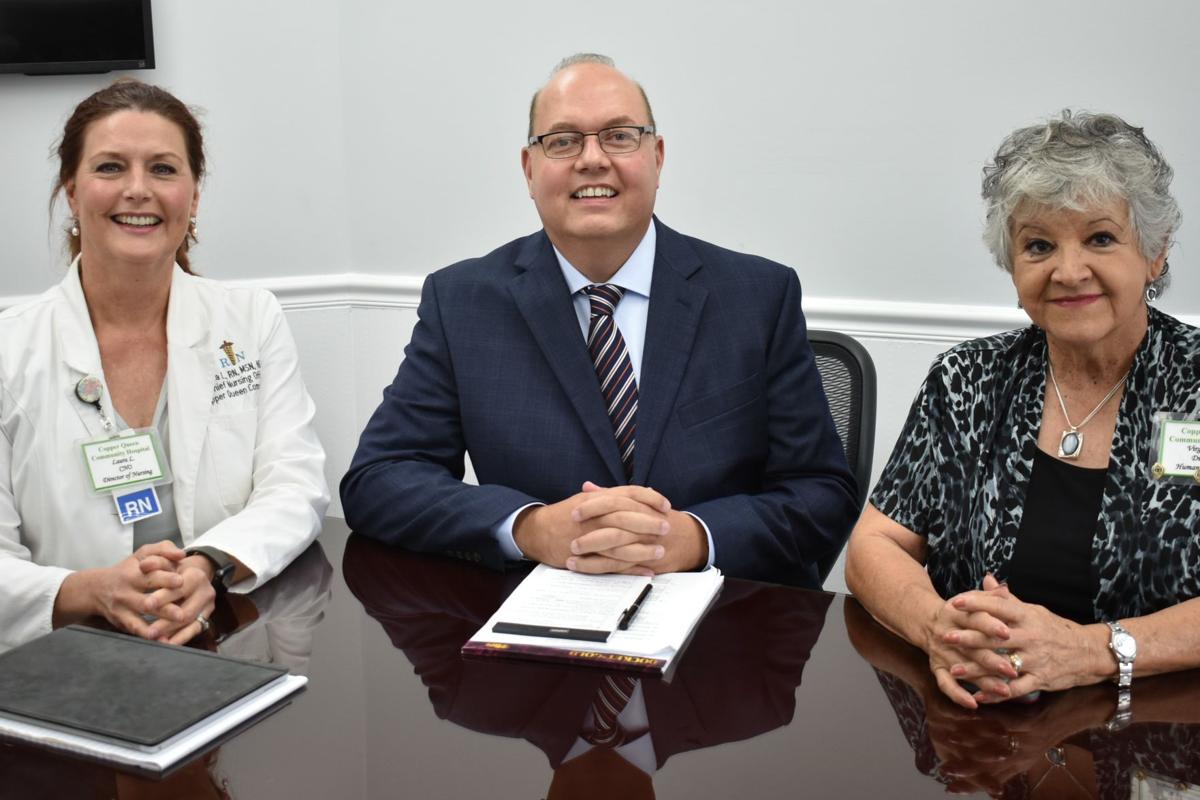 BISBEE — "I thought I had been behind the wheel too long. I saw a pirate in Bisbee. Then I saw another."
The new CEO of the Copper Queen Community Hospital (CQCH), Robert Seamon, had just spent three-and-a-half days on the road from Star Lake, New York, and joked he was surprised to see pirates in the old desert town. He had to call his landlady, who told him it was pirates weekend.
It was an unofficial welcome to the town of "Ya never know what to expect."
"When the opportunity came up, I took a look at the area, and just fell in love with it," said Seamon with a smile. "When I came out for a visit, I met some wonderful people, and I knew early on I loved the culture here. It was definitely one of collegiality, cooperation.
"I just had a good feeling this would be a good fit for me. I was fortunate enough to get the job, and started here on Monday."
Seamon left his position at Clifton Fine Health Care Corporation — where he had spent five years as the CEO — to fill the shoes of former CEO Jim Dickson, who retired in June. At Clifton, Seamon managed a 20-bed critical access hospital, a rural health clinic and a foundation affiliated with a 294-bed regional health system. The annual operating budget was $217 million.
Since 1993, he has been involved on a management level in hospitals big and small, in cities and rural areas of upper New York state.
One of the first things he asked his staff was, "Would you bring your own family members here?" The reply he received was a resounding "yes" and, "We have."
That impressed him. As he talked with people, he soon discovered how much they "genuinely" care for the Copper Queen and their communities.
"It's important for us to have those personal connections with people," Seamon continued. "As an organization, we're the mirror of the community."
On meeting the members of his staff, he noted the one theme he sees "is the universal pride" everyone has for the hospital system with its three clinics and quick care facilities (Bisbee, Palominas and Douglas), and the emergency departments (Bisbee and Douglas).
He is looking forward to the new construction and renovations to the Warren Plaza across the street, which will begin next month. The first phase of the project is to renovate space for a clinic to house the new gastroenterologist, Dr. Suzanne Daly.
It should be completed by February. She will also have office hours in Palominas at the clinic.
One by one, CQCH has been adding specialty doctors to provide for the communities' patient needs. He intends to keep the recruitment up.
Jessica Ogiba, marketing and public relations manager, explained that every three years, a survey of residents is taken throughout the county in an effort to stay abreast of changing needs in the different communities. When the results are in from the surveys and the public meetings, each health system in the different towns knows what those needs are and what new practices need to be provided.
He praised Dickson for the forward-thinking telemedicine program Dickson initiated to connect patients with specialists in Tucson and Phoenix.
"I am inheriting a system that has been extremely well-run," he noted. "Staff provides quality health care for our patients in Bisbee, Palominas and Douglas. We will constantly evaluate what the needs of our communities are and try to meet them."
Staff seems to appreciate his pleasant style of management and desire to keep him happy so he stays.
When asked if he would stay for 20 years like Dickson, Seamon replied with a laugh, "I sure hope to be here in 20 years."
Though only in Bisbee for a short time, Seamon is already discovering some of Bisbee's favorite restaurants: The Bisbee Breakfast Club, The Table and Thuy's Noodle Shop.
Seamon was also impressed with the hospital board and the ladies auxiliary, who spend many, many volunteer hours on the behalf of CQCH and the community. "They are a dedicated group of volunteers."
"It's just been a great week with lots of wonderful things happening," he emphasized. "I'm honored to have been selected to lead the hospital. I feel this is a wonderful place."
[ read more...]